The RUC Collect feature enables you to easily claim back and refund your off-road RUC travel.
Follow the step-by-step guides below to create an RUC Licence, claim back your off-road user charges and view your RUC Claim history.
Creating a new RUC Licence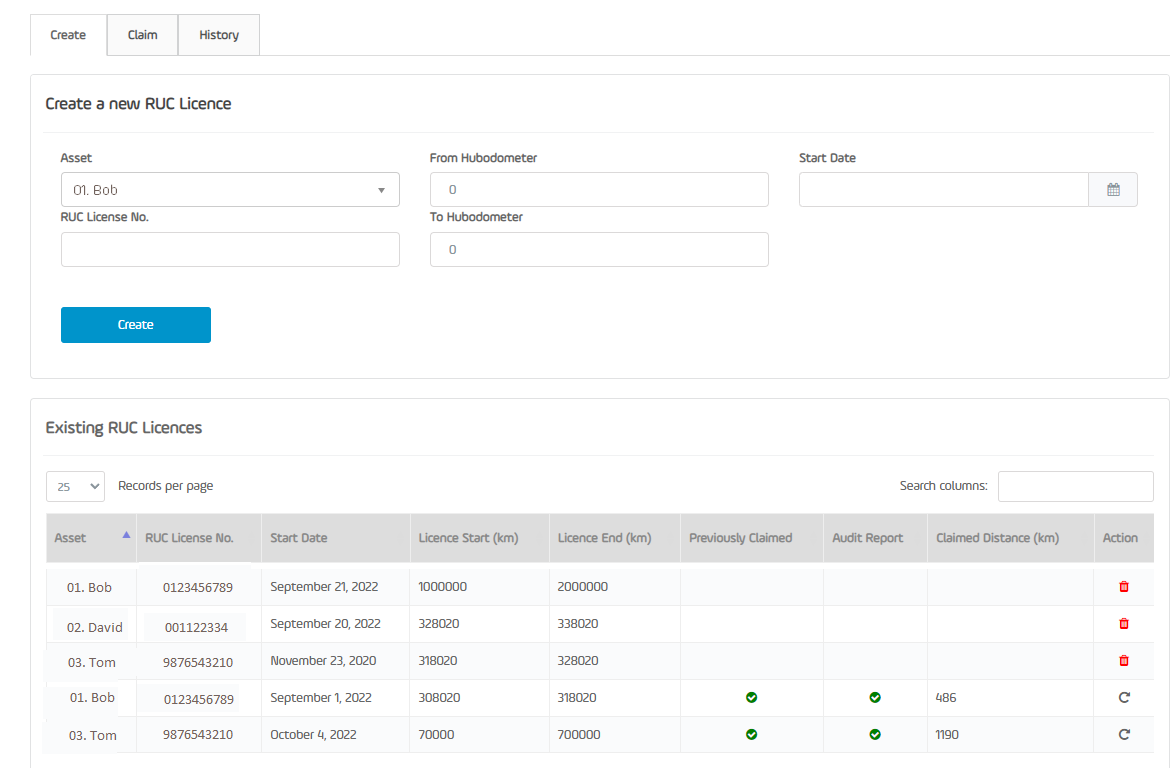 Step 1: Select the 'Asset' drop-down box and choose the corresponding asset e.g. 01. Bob's Vehicle
Step 2: Enter your RUC Licence No.
Step 3: In the 'To Hubodometer' and 'From Hubodometer' fields, type the licence start and licence end readings from your RUC Distance Licence/Ticket.
Step 5: Type in the start date* and click create.
* Please ensure that this start date is as accurate as possible. This date is the day that it switches from one ticket to another or the date that you purchased RUCs.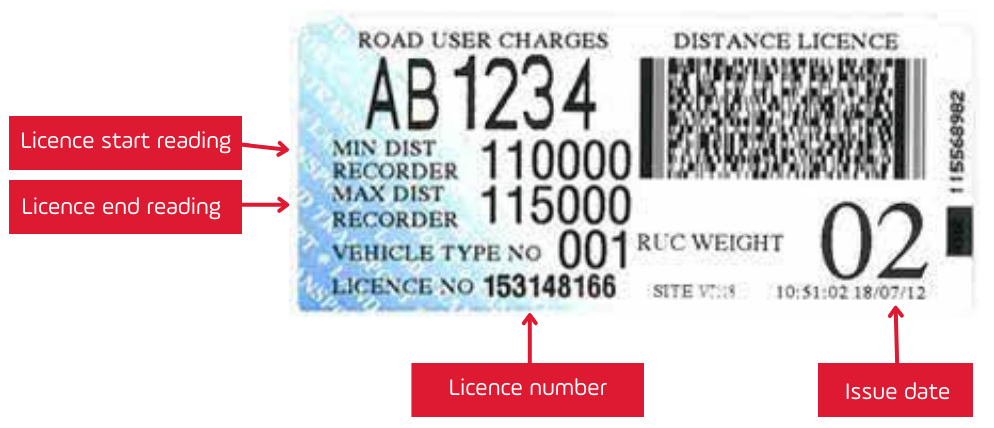 Figure 1: Example of licence start reading, licence end reading, licence number & date.
Claiming back your off-road RUC travel
Part 1: Collect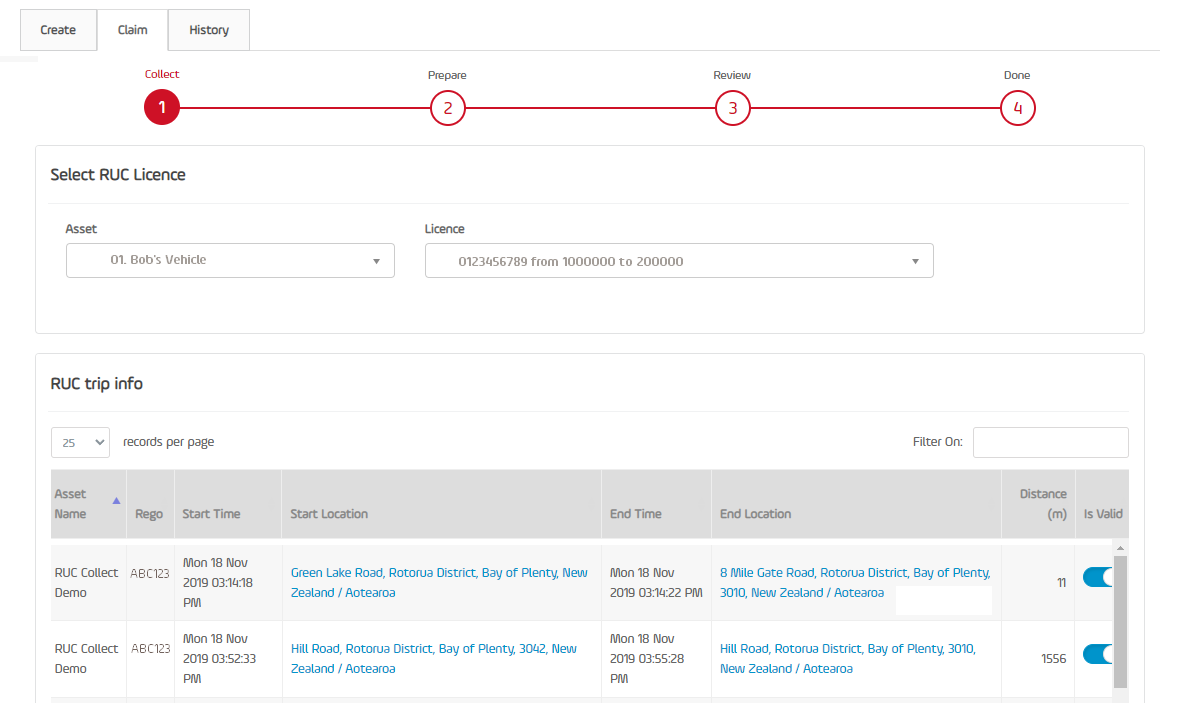 Step 1: After creating your RUC licence, click the 'claim' tab along the top bar.
Step 2: Select your asset e.g. Bob's Vehicle and select the licence you created in the previous section. Now you can see all of the RUC trip info including rego, start time, location, end time etc.
* Tip: Here you can review all of the information and verify whether it is all correct. If any trip information is invalid, simply click the 'is valid' button on the right-hand side to turn it off so that it won't be included in the claim.
Step 3: Once you have reviewed the trip information, click 'add to claim'.
*Tip: The RUCOR form can claim up to 10 assets per form so you can repeat this process multiple times with different assets for efficiency. It is recommended to claim multiple assets as NZTA has a minimum refund of $20. You can find more information about this here.
Please note: You can only claim on a licence that has already been completed - the current distance recorded must be greater.
Part 2: Prepare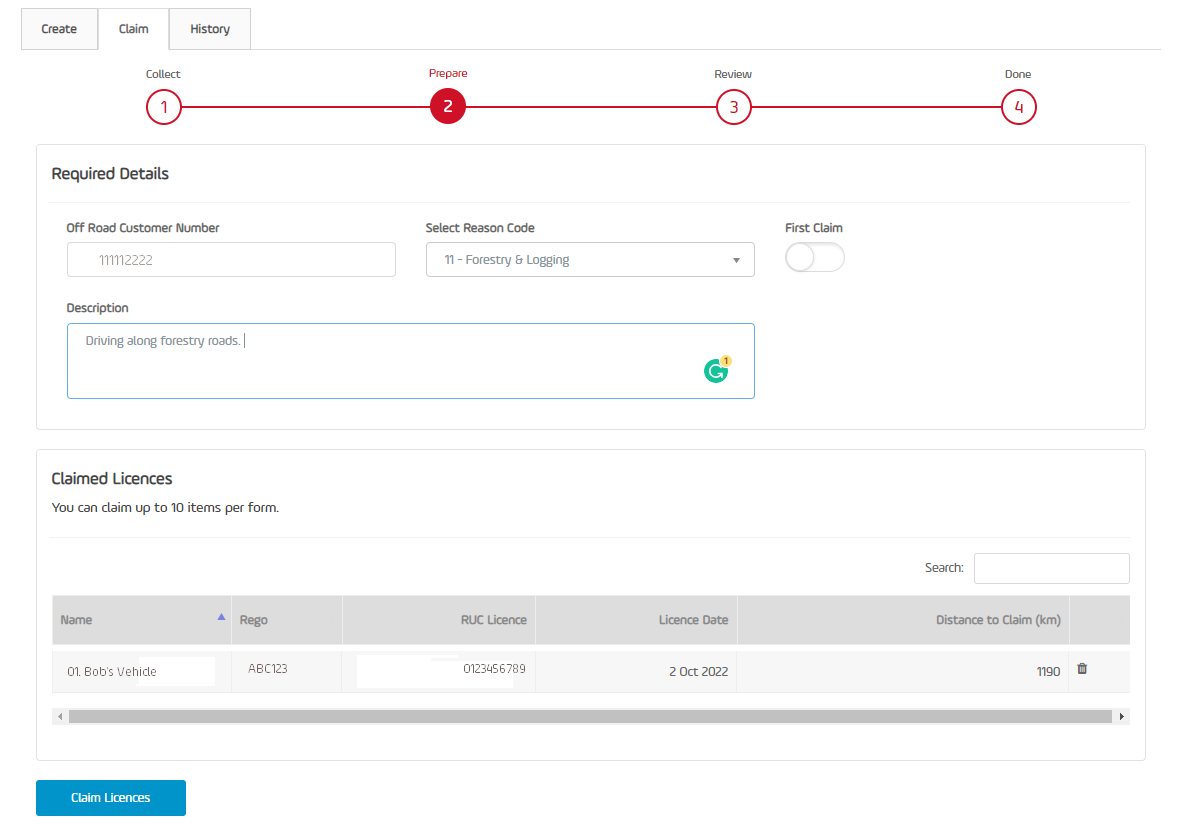 Step 1: Type in your 'Off-Road Customer Number'. If you're unsure what this is, you can find it by going to settings > account details.
Tip: If this is the first time you are claiming, click the 'First Claim' toggle to signify that it's your first claim.
Step 2: Select your 'Reason Code' from the drop-down screen e.g 11 - Forestry & Logging.
Step 3: Write a short description of your trips e.g. Driving along forestry roads.
Step 4: Click 'Claim Licences'.
Part 3: Review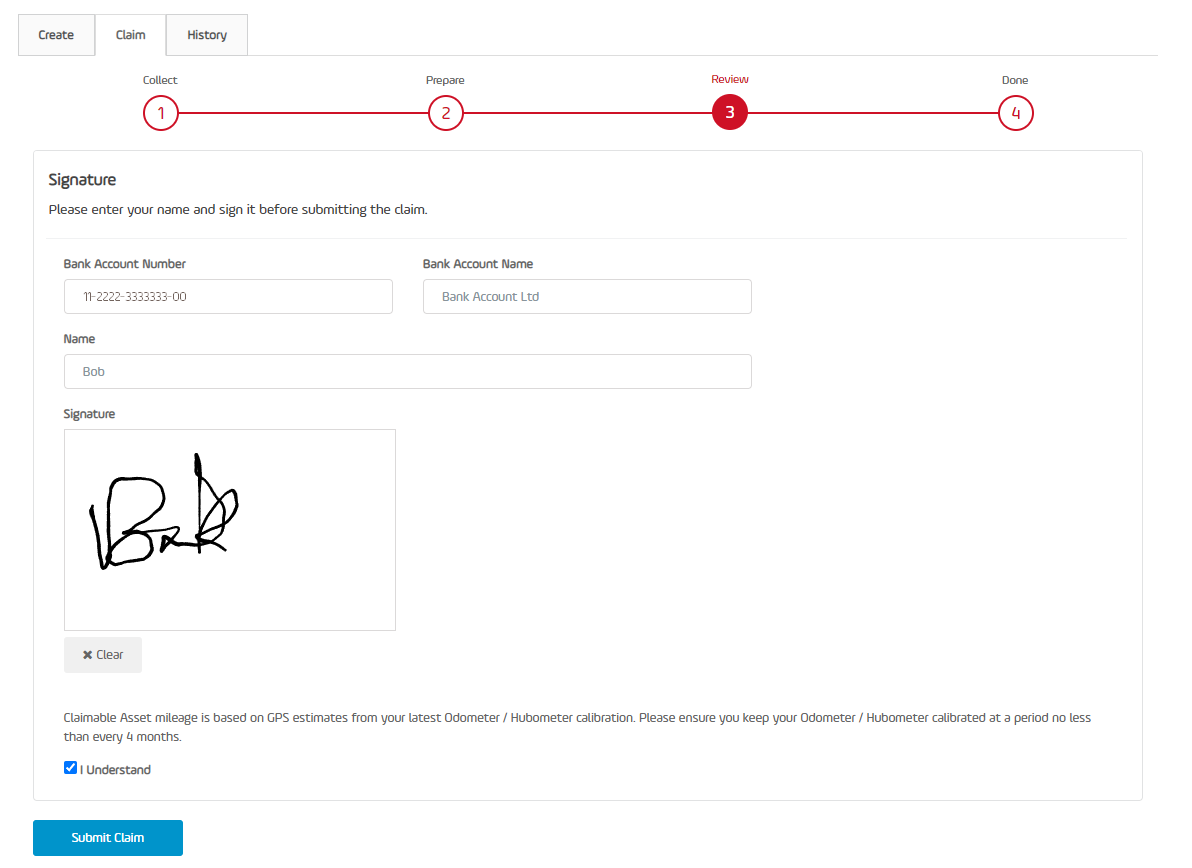 Here you can review the details of the claim (the bank account number and bank account name will automatically appear).
Step 1: Once you've checked that the banking details are correct, simply type your name and put your signature in the signature box.
Step 2: Read the note at the bottom and tick 'I Understand'.
Step 3: Click 'Submit' to finish your claim.
Part 4: Done
Your claim has now been created and a copy of the document will be sent to your email address for your records. We can also send a copy of this directly to NZTA on your behalf. To do this simply click the 'send to NZTA' button.
If you have made a mistake while completing this form and it has not been sent to NZTA, you can still reset and start again. Simply click the 'Reset Claim' button at the bottom of the screen.
*Note: We recommend downloading a copy of your RUCOR Claim Document for your records using the download arrow (see image below). Please also note that NZTA can only process claims that are less than 24 months old. Any claims where the licence is older than 24 months will not be processable.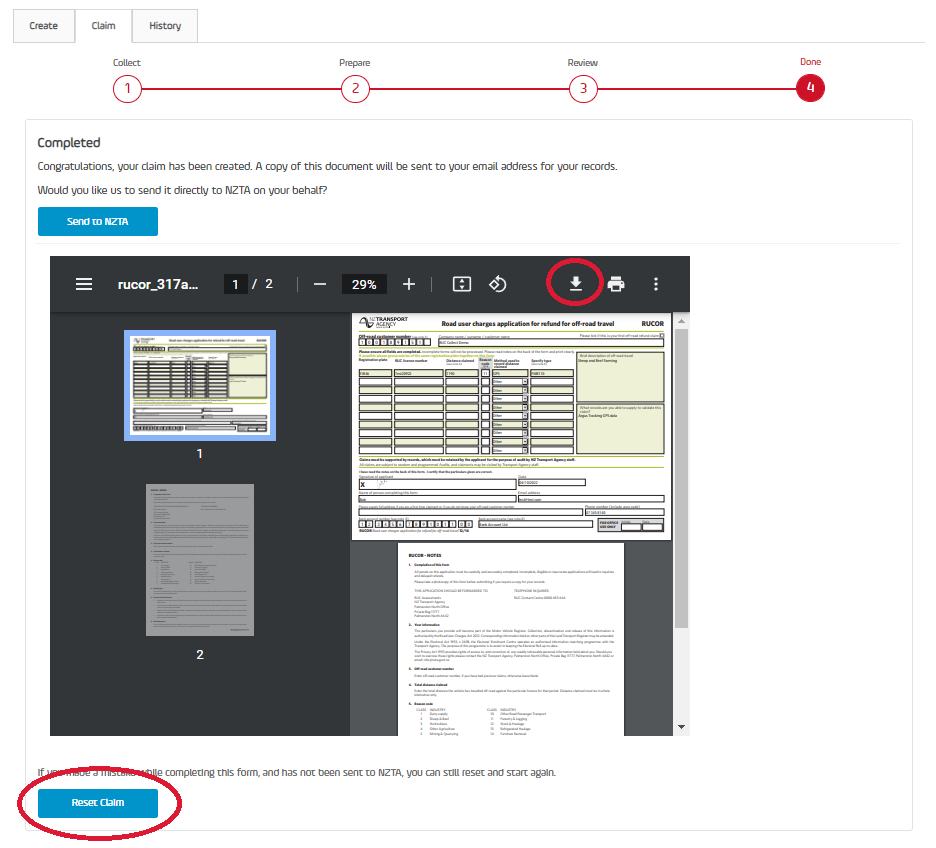 How to view your RUC Collect History
To view your historic RUC Collect claims, select the 'History' tab on the top bar. From here you can select the asset, start and end dates and click 'search'. This will show you all previous licences, distances, claims and audit reports.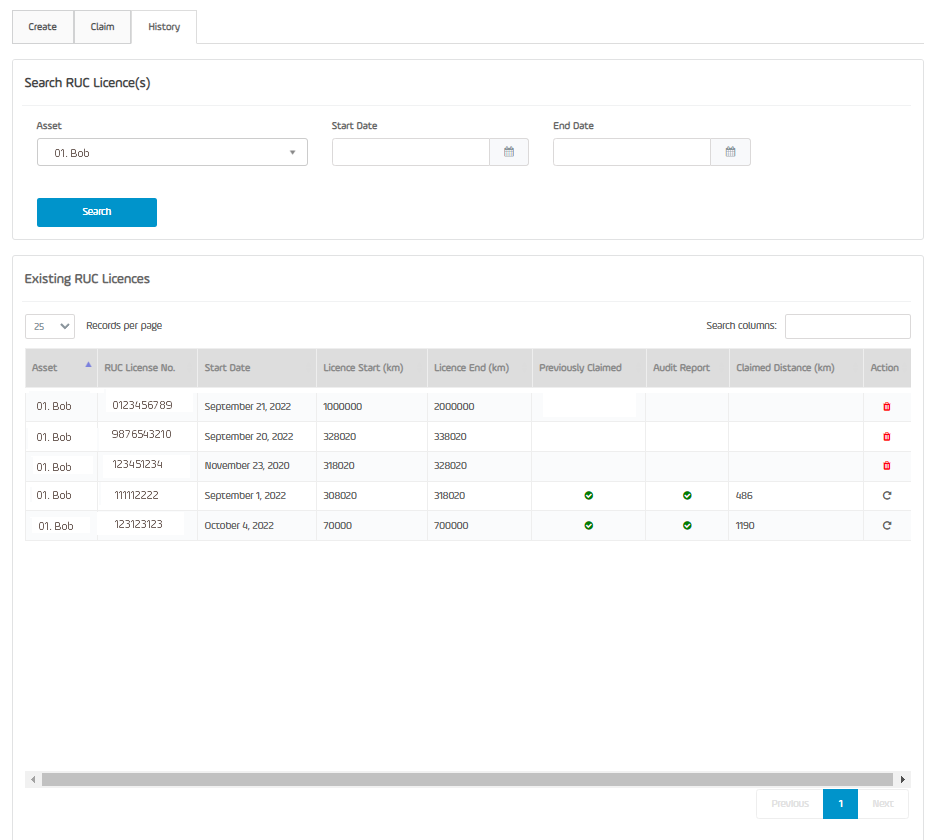 *Tip: You can view previous claims and audit reports by clicking the green circles as shown above. An example of these pages/reports is shown below.
Example previous claims page: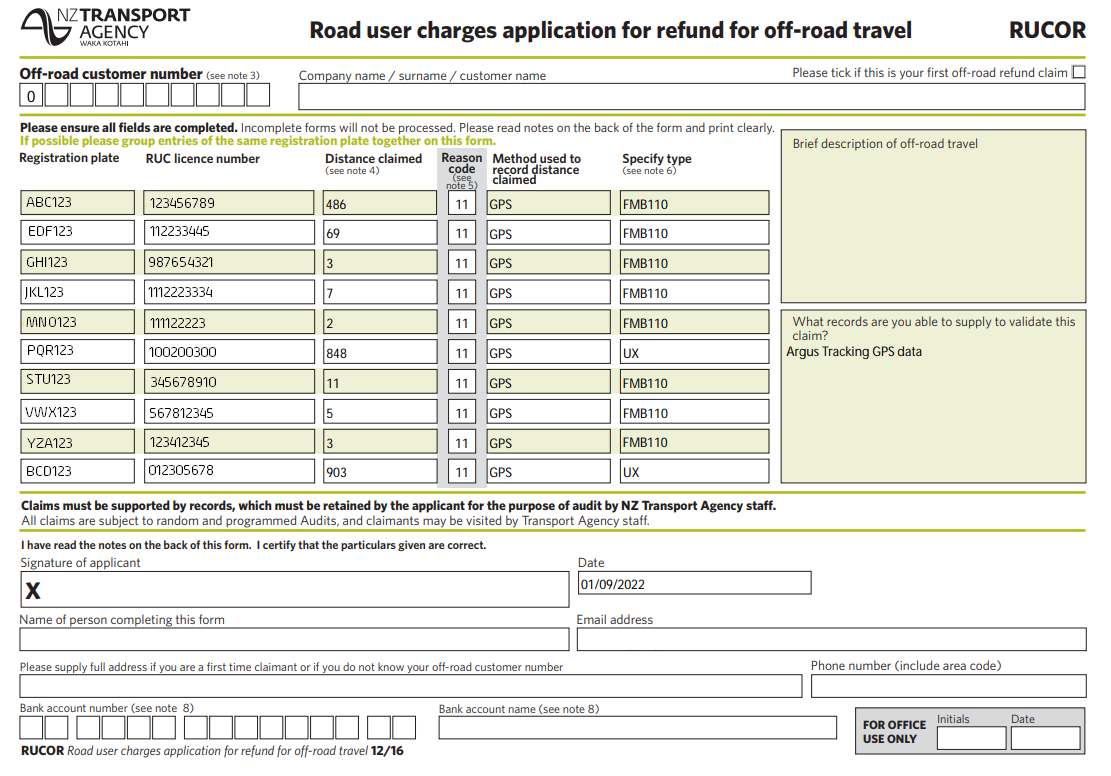 Example Audit Report: